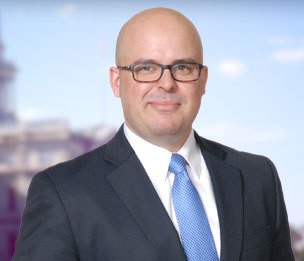 Andrew J. Switalski
Associate
aswitalski@dykema.com
517-374-9140
Showing 6 posts by Andrew J. Switalski.
At last week's Mackinac Policy Conference, Governor Snyder and leaders of both legislative chambers pledged $50 million in infrastructure funding to aid in the much-needed renovations of the Soo Locks. This state funding commitment is the first of its kind.
The announcement comes just weeks after President Trump voiced his support for the Soo Locks Modernization Project while at a campaign rally in Washington Township, Michigan. Read More ›
Recent events at the federal level indicate that the Soo Locks Modernization Project may soon take a giant leap forward.
At this month's Detroit Regional Chamber Mackinac Policy Conference, members of Michigan's Congressional delegation announced plans to introduce legislation to finance improvements to the Soo Locks. The Soo Locks Modernization Act, sponsored by Sen. Stabenow and Rep. Jack Bergman, would direct the Army Corps of Engineers to carry out construction of a second large lock to supplement the aging Poe Lock. As we have previously noted, the Poe Lock is currently the only lock able to handle the 1,000-foot freighters commonly used on the Great Lakes. The total cost of the project has been pegged at nearly $1 billion (subject to adjustments for construction cost fluctuations). According to Sen. Peters, passage of the bill "will allow the Army Corps to move directly into the design and construction phase." Read More ›
For the second year in a row, Governor Rick Snyder has listed the proposed Soo Locks Modernization Project as a top priority in his State of the State address. Michigan's top executive stated that he would urge President Donald Trump and Congress to commit to funding a second 1,000-foot lock in Sault Saint Marie. In support of his request, Snyder cites two reports: one on security issues and the other on the potential economic impact of the proposed renovations. Read More ›
Last week, Governor Snyder wrote Michigan's congressional delegation to stress the importance of fully funding upgrades to the Soo Locks. Snyder urged Congress to replace the Davis and Sabin Locks with a single, larger lock that would provide redundancy should the Poe Lock fail. The Poe Lock is currently the only lock capable of handling the 1,000-foot freighters used to transport raw materials like iron ore. Snyder's letter describes the predicted fallout of a temporary shutdown: Read More ›
A recent Detroit Free Press article predicts "dire consequences" should Michigan's Soo Locks be forced to shut down by a failure in infrastructure. The premonition stems from a recent U.S. Department of Homeland Security report which found that a gate failure at the Soo's Poe Lock could result in up to a 6 month shutdown, creating a domino effect that would halt operations for a number of industries. The Poe Lock is currently the only lock capable of handling the 1,000-foot freighters used to transport raw materials like iron ore. Read More ›
State law generally requires state contracts meeting certain criteria (to include dollar thresholds) to be competitively bid. However, the Management and Budget Act, Act 431 of 1984, provides that, in limited instances, the State of Michigan may be permitted to make emergency purchases without a competitive solicitation process or traditional bidding. In addition to situations where a formal state of emergency has been declared, MCL 18.1261(3) provides that competitive solicitation is not required if procurement of goods or services "is necessary for the imminent protection of public health or safety or to mitigate an imminent threat to public health or safety," as determined by the Department of Technology, Management, and Budget ("DTMB") director. Procurement without competitive solicitation is also permissible when conducted for "emergency repair or construction caused by unforeseen circumstances when the repair or construction is necessary to protect life or property." Read More ›